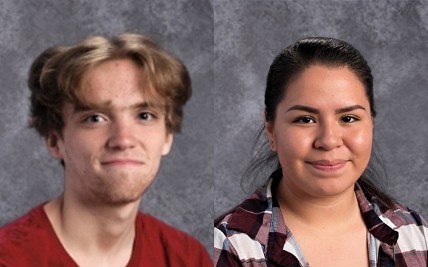 ______________________________________________________
2018 JOHN TRUDELL AND TINA MANNING TRUDELL SCHOLARSHIPS AWARDED TO CHARLES DILKS AND LEAH RANGEL
Laytonville students Charles Dilks and Leah Rangel are the recipients of the 2018 John Trudell and Tina Manning Memorial Scholarships. The awards were presented at a recent ceremony in Laytonville.
The John Trudell Scholarship, now in its 4th year, is awarded for pursuit in the Arts, and Charles won for his activities in Music. Charles is continuing his studies in Music Theory & Production. He sees his role with & dedication to music, as a means & method for healing the world. We believe in his vision.
The Tina Manning Scholarship, now in its 9th year, is awarded to those who protect the Earth, and Leah won for her activities in Earth Science. Leah is continuing her path toward becoming a Natural (Homeopathic) Doctor and, after completing her studies, plans on returning to her community to help her people. We believe in her vision.
To both these young people, we wish you the very best as you bring your gifts and talents, your hearts & very selves, further out into the world. We look forward to the circles you draw with your chosen dance.
The scholarships are funded by the sale of KPFN tee-shirts & community donations throughout the school year. They commemorate and honor the life and work and spirit of Native American activists John Trudell and Tina Manning Trudell.
______________________________________________________
ABOUT JOHN TRUDELL AND TINA MANNING TRUDELL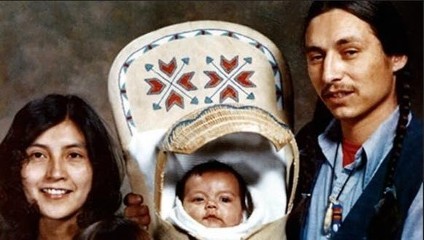 PHOTO: Indian Country Today
MANNING: THE PICTURE IN OUR HALLWAY: MY STORY GROWING UP WITH THE (MANNING) TRUDELL FAMILY
by Sarah S. Manning Dec 15, 2015
KPFN Note: The following is an excerpt from Indian Country Today

Growing up, we had this picture in our hallway of a beautiful smiling Tina, and her glowing children, Ricarda Star, Sunshine Karma, and Eli Changing Sun. My parents made sure we knew who they were. The little ones were our cousins, and Tina, our auntie. We knew that they were important, and I knew that I shared a name with Sunshine. Yet, tragically, they all perished in a fire just a few years before I was born. As a young girl, from that one picture, this is what I knew.

As I grew older, I remember hearing his name spoken of fondly, by my parents and relatives. John. Uncle John. JT. I remember hearing his powerful voice speak over tribal songs, as my big sister played his cassette tape, over and over … and over. Drum beat, beautiful voice of a man and woman singing, and John, laying down rhythmic lines. We listened to songs like "Heart Taker" and "Tina Smiled." John, I learned, was married to my late auntie Tina, and he was the father of Ricarda, Sunshine, Eli, and the unborn Josiah Hawk. Tina, I learned, was pregnant when they all perished in a fire, and Tina's mother, Leah Hicks Manning, also perished in the fire along with them. Read More.
______________________________________________________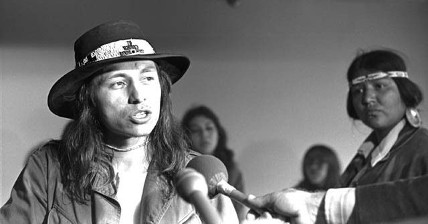 JOHN TRUDELL: BIOGRAPHY excerpt from johntrudell.com
On February 11, 1979 Trudell had burned an American flag during a demonstration in front of the J.Edgar Hoover building, the headquarters of the F.B.I. In Washington, DC, Trudell explained his motives for the flag-burning. "In the military, they said if the flag has been desecrated, the only way to properly dispose of it is to burn it. But they defined desecration of the flag as if it drops on the earth. I say injustice and racism and classism and your whole way of life desecrates whatever you say this thing's supposed to mean." About 12 hours after the flag incident, in the early morning of Abraham Lincoln's birthday, a fire "of suspicious origin" burned down Trudell's home on the Shoshone Palute reservation in Nevada, killing Trudell's wife, Tina, their three children and Tina's mother. Not surprisingly, the F.B.I. declined to investigate, and the blaze was officially ruled an "accident." But Trudell flatly stated "It was murder; they were murdered as an act of war."
Devastated by the tragedy, Trudell withdrew from the world for a time, and it was during this period of grief and exile that Trudell discovered his poetic gift. "It was when I was looking for something to hang on to, to keep me connected to this reality, that I started writing. I did not write poetry prior to that…Tina was the writer. She wrote poetry. And almost six months after the fire, when I was looking for help — I was looking to cut any spiritual deal. I was pissed off at God, at the Great Spirit, at all of 'em because this was a betrayal to me… And then the lines came. The lines were my bombs, my explosions, my tears, they were my everything." Read More