LOCAL COMMUNITY MESSAGE
From the Mendocino Observer
To the Editor:
Looking For Sponsors, Donations
Dear Readers,
Hello, my name is Haley Whitcomb. I'm a junior at Laytonville High School, pursuing a career in medical science and forensics. Earlier this year, I was nominated for a special award from the Congress of Future Physicians and Medical Leaders. I was nominated due to my GPA higher than 3.5, and my interest in medical science. This award includes a special trip to Boston to view panels of doctors, PhD Laureates, as well as interviews with patients of extraordinary medical cases, panels about scientific technology and the viewing of live surgery.

I am raising funds to be able to go to the ceremony in Boston in June, and I am looking for sponsors and/or donations to help make this happen. Any help would be greatly appreciated. For more information, please feel free to contact me at whitcomb267@gmail.com or by mail at Haley Whitcomb, 8501 Branscomb Road, Laytonville, CA 95454.
Thank you,
Haley Whitcomb Laytonville
________________________________________________
BLUE LUKE AND BAND LIVE AT NORTHSPUR BREWERY
We've had the pleasure to see lots of Luke locally this time around during his current break from being on tour with Julian Marley. Often seen performing over the summer here in Mendo with his brother, ace bassist Lincoln, and an assemblage of other players, including drummer/percussionist Zack Morris and saxophonist Chris Ziegler, Luke is captured here in a recent performance at Northspur Brewery in Willits, on October 5th, 2019, at one of the brewery's grand opening celebration events. Accompanied by a lock-tight rhythm section consisting of brother Lincoln Andrews on bass and Roni Zadik on drums, the trio takes a freeform strato-spheric ride. Video: Eric Kaplan.
LAYTONVILLE FARMER'S MARKET AT HARWOOD HALL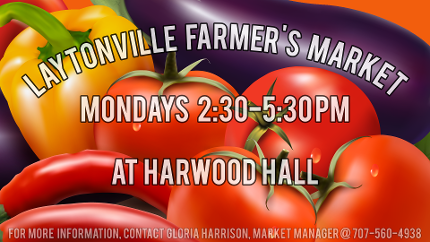 Our Weekly Farmer's Market offering the very best in local produce, fruit, meat, wines, eggs, chocolates, fresh flowers, baked goods, plant starts, herbs, mushrooms, iced tea drinks and other locally-originated farm products. Live music. Gladly accepting EBT, WIC and senior WIC.
____________________________________________________
WHEN SHE HOWLS, MOTHER NATURE CLAPS